"To create one's world in any of the arts takes courage." – Georgia O'Keeffe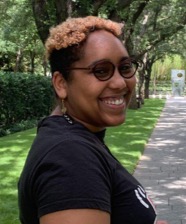 Historical artist Lillian Young developed a love for art after finding some of her mother's old sketchbooks and has always had a passion for history and incorporates it into her artwork. Growing up her family made sure that she was well educated about the struggles, victories, and heroes in Black history. Learning those stories helped feed her love for history, and realize that the history that she knows is not necessarily what my peers know. Her art often incorporates text, preferably handwritten, so that the work can connect viewers to more in-depth information surrounding specific events.
Lillian believes that "[o]ften history may seem irrelevant but has consequences in how we understand and react to current events." She depicts forgotten or not well known moments for the historical Black experience, focusing on lesser known black leaders, stories, events and objects that are commonly known by the black communities, but unknown by the general public. In highlighting these moments through painting and printmaking, Lillian works to make a connection to the social anxiety felt today from the rise in racism, loss of representation, and her own struggle of continuing to fight for equality today.
Lillian's works have appeared in galleries in Texas, New York, and Michigan. She attended Texas Christian University where she received her BFA in Studio Art and an emphasis in Art Education. She was a recipient of 2017 and 2018 Smithsonian Minority Award, A Mercedes-Benz Financial Services Experiencing Perspectives 2018-2019 Exhibition Finalist and a winner of the Texas Christian University Llangollen Award for Undergraduate Research and Creative Activity. Currently she is working on her MFA at Michigan State University.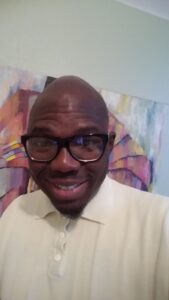 Nii Narku Thompson graduated from the Ghanatta College of Art and Design in Ghana, West Africa.  His works are centered on the universal themes of religion, culture, politics, and race. Painting mostly in acrylics, his works are heavily textured and colorful, and his work can be described as abstract or surreal. Nii is a member Foundation for Contemporary Art Ghana (FCA Ghana).
His works have been exhibited in Ghana, Italy, and the United States at prestigious institutions such as: National Museum in Accra, Ghana; Alliance Francaise; Goethe-Institute; and the British Council.  Additionally, Nii Narku's works have been exhibited and commissioned by the Cam Casoria Contemporary Art Museum in Napoli, Italy; Blue Line Gallery in Atlanta, Georgia; New York Museum for National Black Fine Arts; and Elks Lodge in Naples, Florida.   
Most recently his work has exhibited at the Wilma W. Daniels Gallery; University of North Carolina Wilmington Cultural Arts Gallery; Acme Studio; the University of North Carolina Pembroke's Givens Performing Arts Center; the Art League Bomar House; In the Gallery of Tennessee; North Western Art Center, as well as the North Collier Regional Park Art Space. Written below is Nii's artist statement:
Life inspires what I depict on the canvas. The canvas is where I express my deepest emotions, thoughts, and experiences. My work transcends beyond race, religion, ideas of traditional love, and politics as my point of view is revealed by the drips of paint I lay and the outlines I sketch within the space and figures abstractly placed in my work and seen on the faces of the images I make appear on my canvas. I layer colors as I layer the depth of my ideas creating heavy texture to define what I hope those who view my work will feel as this is my way to connect with others. Ultimately, for me it is my hope that when people see my artwork, they are witnessing something beautiful and experience healing from all that is negative in the world.
VIEW THE FULL COLLECTION OF THEIR WORKS OF ART AT THE LINK BELOW